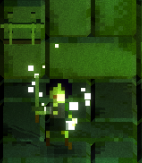 Being Confused is quite similar to being drunk, but is the result of a different
consumable
.  You will wander about aimlessly, lost within the dungeon of your mind.
Simply wait until you pull yourself together.
Letting your mind wander near lava pits or dangerous enemies is not recommended.
- Added Alpha Bat
Ad blocker interference detected!
Wikia is a free-to-use site that makes money from advertising. We have a modified experience for viewers using ad blockers

Wikia is not accessible if you've made further modifications. Remove the custom ad blocker rule(s) and the page will load as expected.