Description
Edit
The Skeleton Glove is a melee weapon that can only be used by the Necromancer. While it has very low range (almost every enemy will be able to hurt you when attacking them), it has a very powerful ability. If the Glove manages to kill an enemy, a skeleton will spawn where the enemy died. Unlike normal summoning abilities, the skeletons summoned this way are considered "Pets", and will follow the Necromancer room to room.
10 Damage
Extremely low range (Same range as Punch)
Skeletons do around 19-23 damage.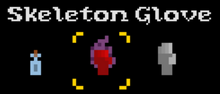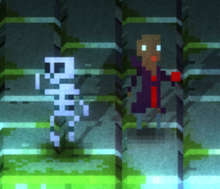 Ad blocker interference detected!
Wikia is a free-to-use site that makes money from advertising. We have a modified experience for viewers using ad blockers

Wikia is not accessible if you've made further modifications. Remove the custom ad blocker rule(s) and the page will load as expected.